IT Support for Charities
For many years, non-profit organisations have focused on in-person interactions to achieve their goals. In an increasingly digital world, charities now need to incorporate powerful IT into their operations or risk being left behind.
Technology supports the vital work that charities do. The pandemic has highlighted the ever-greater need for online fundraising, replacing physical means of raising money with safer alternatives. AAG are experts at helping charities navigate this changing technological landscape. From upgraded hardware to a bespoke IT strategy, we can provide cost-effective IT solutions so your charity can continue its important work.
Our Services
Your charity needs IT infrastructure that supports working in an increasingly digital world. From software updates to hardware overhauls, AAG's tailored IT solutions can unlock the power of technology for your charity.
Digital Strategy
Charities need a strong online presence to reach new audiences and operate effectively. The issue with going digital is that many charities have no strategy to take advantage of technology.
AAG works closely with you to help your charity navigate a digital future. For instance, fundraising events are often the only viable collection method for charities. In-person fundraising is difficult at present, so hosting online events should be a priority. We can suggest IT solutions for software and infrastructure that helps your charity reach potential donors and volunteers online.
Hardware Services
As technology improves, charities may need to overhaul their hardware to continue providing effective support.
Charities are notoriously paper-based organisations – from mailshots and annual reports to record keeping. They require hardware that supports this operation. Our Managed Print Services can provide a cost-effective solution for bulk printing leaflets and campaign information.
For those charities looking to undertake large-scale infrastructure upgrades, we offer Hardware as a Service. This pay-monthly service allows you to upgrade your charity's IT without the costly investment. Our team works closely with you to determine a project timeline that supports your requirements and budget.
Cloud Services
Cloud services can provide a cheaper alternative to traditional on-site IT infrastructure. We offer a range of solutions to support your charity's operations.
Infrastructure as a service removes the need for physical infrastructure. Your charity can add or remove resources as required, and you only pay for the services needed. Volunteers working out of the office benefit from remote access to essential files and applications. Data can be securely transferred over our network, promoting greater collaboration between charities and their partners.
As these services are managed remotely, charities can operate more efficiently and focus on their core business. These services become invaluable when working in disaster zones or rural locations with poor connectivity. We can advise your charity on the best cloud solution for your needs.
Benefits of choosing AAG as a Charity IT Support partner
We keep your charity's IT system management simple.
Whether you are a small charity looking for a partner to develop your IT strategy or a large organisation needing additional help with a project, AAG can provide tailored solutions that support your budget and team.
We provide 24/7 support across the UK, with a remote desk and on-site assistance for when something goes wrong.
Cyber Essentials Plus and ISO 27001 accreditation ensure data security.
We offer specialised IT solutions that support your charity's development.
Helping Not for Profit Organisations Focus on What's Most Important
Many of the charities we work with have limited resources, and their time is valuable. It should not be spent managing IT issues.
We minimise disruption to your charity by rapidly installing or upgrading any systems. We then handle the administrative IT work so your staff are available to help your service users. Our site audit tells both you and us what would be cost-effective and easily adaptable to fit your budget. And we offer our 24/7 server support as standard so we can keep you up and running day and night.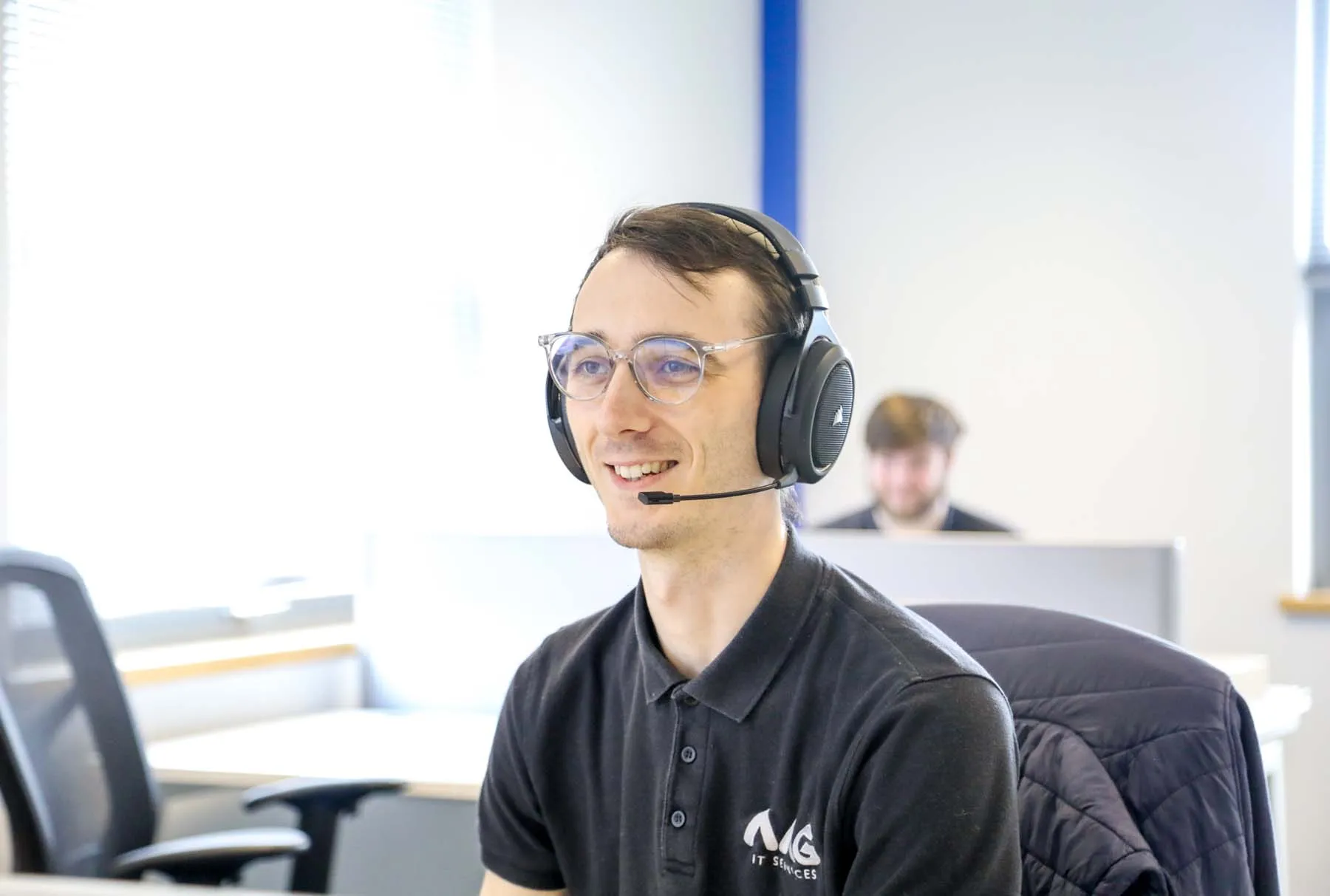 An IT Support Company that Provides Personal Service
Your IT Support should be tailored for your organisation. Our Proven Partnership Process ensures that we understand every client's individual needs and goals.
We go the extra mile by consulting with your team and developing an IT strategy that supports your plans. By integrating any systems and hardware with your existing operation, we guarantee minimal disruption while maximising the benefit to your charity.
Testimonials
AAG is a trusted Charity IT Support provider with clients across the sector.
I would definitely recommend AAG to our clients and we do on a regular basis, we would not use a company that we are not willing to sell to our end users. ACS would not be where we are today without the help and support of AAG.
ACS Business Supplies
AAG is a very professional organisation and the team are always prepared to invest time to better understand our needs and concerns. We would happily recommend AAG as a true IT partner.
AEON Financial Services
We would recommend AAG as they make us feel like a valued client and they are friendly, approachable and efficient.
Pharmacist Support
They are honest, approachable and they have a personality, which is why we would have no doubt in recommending AAG to anyone who is considering using their services.
Crystal Clean Services
AAG has been our trusted IT Service provider for many years. They are very prompt, consistent and reliable and I would highly recommend their service.
Hayley Koseoglu
Business Improvement Consultant