What do our clients say?
We transform businesses through technology. But don't just take our word for it.
I would definitely recommend AAG to our clients and we do on a regular basis, we would not use a company that we are not willing to sell to our end users. ACS would not be where we are today without the help and support of AAG.
ACS Business Supplies
They are honest, approachable and they have a personality, which is why we would have no doubt in recommending AAG to anyone who is considering using their services.
Crystal Clean Services
I'd recommend AAG to anyone looking for solid IT consultancy and support, especially if you are just starting a new business venture. We've found a true technology partner in AAG.
Haus Homes
We would recommend AAG as they make us feel like a valued client and they are friendly, approachable and efficient.
Pharmacist Support
I would recommend AAG as we have had experiences with other IT service providers in the past and all of the other suppliers have let us down significantly. If I could describe AAG in one word it would be 'reliable'.
Weightron Bilanciai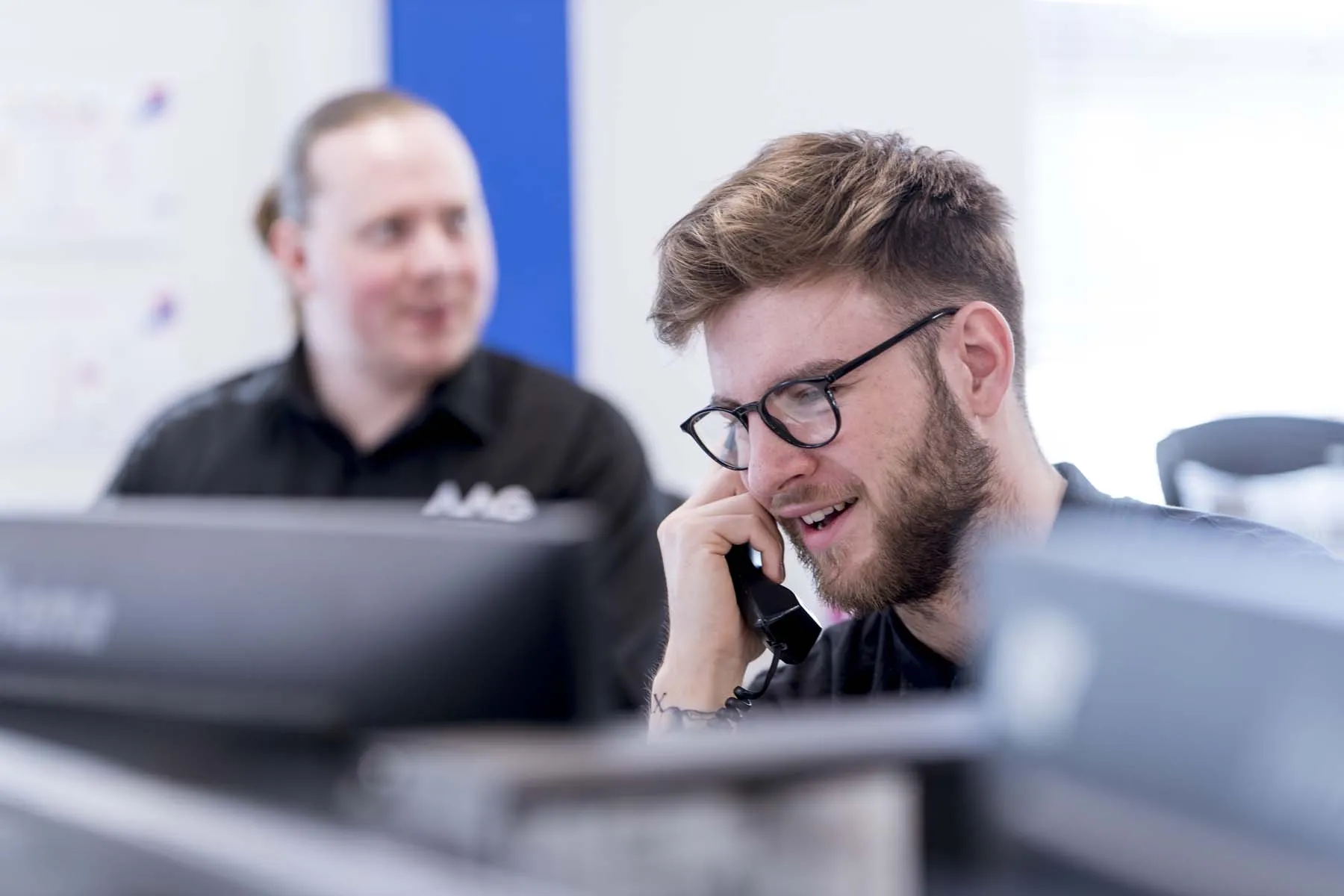 Better conversations, smarter transformations
Good communication is central to our business.
Alongside our service engineers, we recruit, train and retain thoughtful, understanding customer service professionals and account managers. People who listen and can translate how IT strategy relates to your ambitions as a business. Because honesty and shared understanding provide a platform for long-term value and innovation to flourish.
Supporting businesses across the UK
AAG started life in Chesterfield back in 2009. Since then we have grown to support clients all over the UK, with resources in Chesterfield, London, Manchester and Sheffield. We monitor systems proactively and offer round-the-clock remote support. Should you need on-site support or assistance with an IT installation, one of our engineers can be dispatched and with you quickly.
Reasons to choose AAG
We help aspirational businesses take control of technology to enhance their working world.
We can do the same for you.
Reach your targets
Drive smartly towards your strategic ambitions with an IT setup designed specifically for your business targets.
Empower your staff
Empower your staff with tools that allow them to do their jobs better, faster and smarter than before.
Secure and supported
Stay on the front foot with the latest cyber security, proactive network monitoring and round-the-clock support.
Stay in the loop
Get regular reports on how we are monitoring and managing your IT landscape.
Build for the future
Ensure your technology setup is flexing as your business evolves, with regular strategic reviews to drive the future of your organisation.
Access powerful technology
Access the latest technology thanks to our longstanding relationships with leading providers.
FAQs
Feel free to ask us anything.
What will AAG do for my business?
Our mission is to help you take control of technology to empower your business. With the right IT setup and support, you can transcend your challenges, transform business performance and unlock new potential in your business. Schedule a free consultation and find out exactly how we can help you discover the power of IT and work smarter.
Does my business need IT?
In short: yes. Every business could benefit from having a properly managed IT platform that's been designed specifically for their business. You will notice the difference it makes.
How much will it cost?
We challenge ourselves to help every client see how investing in technology is investing in their business future – underlining improvements such as increased performance, new routes to revenue and better ways of doing business.