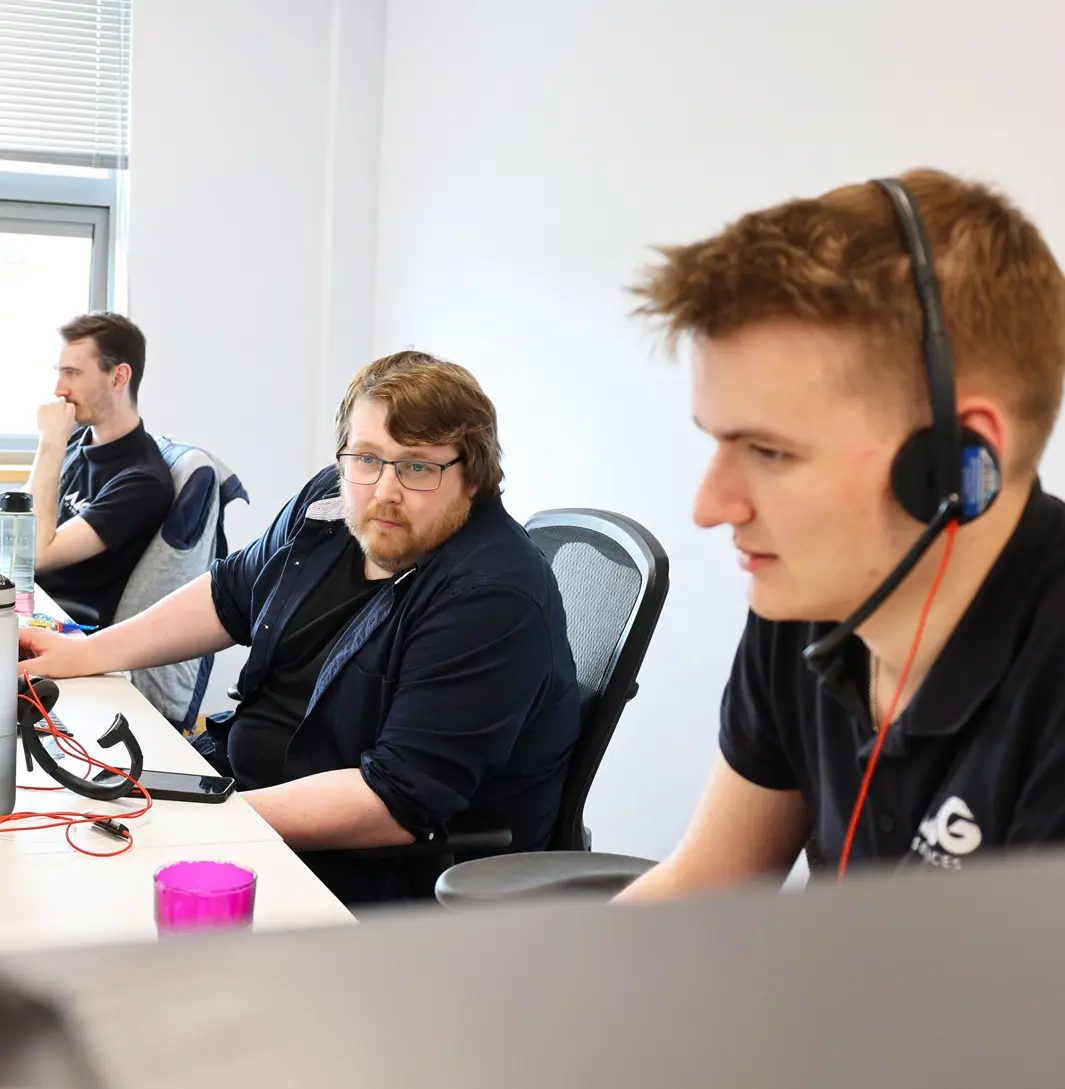 Our information technology management services give your business the support it needs
In an increasingly digital world, your company's ability to use technology efficiently can mean the difference between success and failure.
Our Managed IT Support Services can help you reduce downtime and increase productivity across your entire organisation. Our services enable you to focus on the growth of your business while we provide the day-to-day management of your information technology needs.
We are experts at managing information technology systems.
We provide 24/7 support across the UK.
We tailor our solutions for your business.
We Are Experts In Managing IT Projects
These projects might be as basic as system updates, or they may be greater in scope, such as a project to combine multiple data streams through cloud migration.
IT is critical to most company activities, so any infrastructure upgrades must be done without interrupting regular operations. Unforeseen complications can arise that cause project delays and increase expenses.
AAG can help you avoid failures by providing effective IT project management. We become part of your team and work closely with your business to identify your specific objectives. Our specialist IT management software can keep your essential systems running while upgrades occur. We provide tailored support throughout your project, from the initial IT project design phase to the final rollout.
We Provide Specialised IT Support For Businesses
We keep the management of your systems simple.
Our technical team constantly monitors your network to keep your business connected and productive.
24/7 fully outsourced support: We operate across the UK, ensuring a rapid response when something goes wrong.
You remain in control: We set up regular reviews to ensure our management services align with your goals.
Bespoke IT Support: We tailor our services to your business, keeping you ahead of the competition.
Rapid installation: We ensure minimal disruption to your operations while upgrading your systems.
Technology partnerships: Our industry-leaders partners keep your business at the cutting edge of IT.
Cyber Essentials Plus and ISO 27001: Cyber security is at the heart of everything we do.
IT Management Services Testimonials
From small local firms through to multi-national organisations, we have the knowledge and resources necessary for any company to concentrate on their specific goals.
AAG has been our trusted IT Service provider for many years. They are very prompt, consistent and reliable and I would highly recommend their service.
Hayley Koseoglu
Business Improvement Consultant
AAG is a very professional organisation and the team are always prepared to invest time to better understand our needs and concerns. We would happily recommend AAG as a true IT partner.
AEON Financial Services
I would definitely recommend AAG to our clients and we do on a regular basis, we would not use a company that we are not willing to sell to our end users. ACS would not be where we are today without the help and support of AAG.
ACS Business Supplies
I'd recommend AAG to anyone looking for solid IT consultancy and support, especially if you are just starting a new business venture. We've found a true technology partner in AAG.
Haus Homes
AAG help me to sleep at night knowing that I don't have IT issues, and anything can be resolved quickly and professionally. I would recommend AAG because of all the above and the friendliness of the staff.
Home Instead Senior Care Chesterfield
We would recommend AAG as they make us feel like a valued client and they are friendly, approachable and efficient.
Pharmacist Support
AAG are friendly and approachable which is particularly important when IT knowledge is very limited and we aren't exactly sure what the problem is.
Proctor Car Sales
We don't have any downtime as AAG make sure everything is running smoothly. Half the time they know that something is going down before I do.
St Patricks Catholic Primary School
FAQ
Does my business need IT Management?
In an increasingly digital world, business and technology management are linked. IT has become an integral part of every business, so it needs to be managed properly, so operations run smoothly.
By outsourcing your IT service and working with an external IT company, you can concentrate on business development and planning, with the day to day maintenance of your systems taken care of. Your IT manager can proactively maintain the health of your technology infrastructure to ensure systems function smoothly and efficiently, without any interruptions.
IT management service providers have huge resources at their disposal so that they can assist with any IT projects your business requires. Whether you need additional support updating core business applications or an IT manager to oversee infrastructure overhauls, an external IT partner can provide the support you need.
Can I still use my own IT team?
IT management services can be as involved with your IT Support as you require. For instance, smaller companies with an IT team of only one or two technicians may benefit from additional support during particularly busy periods or cover holidays or sickness.
Even large organisations benefit from an external IT management service during critical upgrades. An external partner can provide the necessary resources to ensure the project is successful. A good IT partner works alongside your internal team to provide a complete IT Support system that supports your business' development.
How can IT Management help prepare my business for the future?
Innovations like artificial intelligence are transforming business processes and creating new development opportunities. However, it is critical that companies use an IT infrastructure that supplements their business strategy.
IT management service providers are best placed to recommend emerging technologies that can benefit your business. A good IT firm understands how your company operates and can advise on the appropriate hardware, software or cloud services needed to fuel future growth.