Why Sheffield is Attractive to Tech Start-Ups
Sheffield has become one of the best cities to start a business. Discover how the city fosters innovation and welcomes digital pioneers.
Sheffield was ranked the best UK city to start a business in 2022.
The 'Steel City' beat strong competition from the likes of Manchester, Glasgow and Liverpool to top the Startup Cities Index. Strong results across the research categories have firmly positioned Sheffield as a magnet for tech start-ups.
As an emerging hub of innovation and entrepreneurship, Sheffield offers a unique blend of factors that make it highly attractive to budding tech entrepreneurs looking to establish and grow their businesses. Between 2011 and 2016, digital business births grew by 126%, and turnover hit £745 million in 2017.
From its rich industrial heritage, Sheffield is forging a new reputation as a city where creative ideas flourish and ambitious ventures thrive.
So what makes Sheffield so attractive to start-ups?
Low cost of living
The average house price in Sheffield over the last year was £240,611.
That's 23.3% lower than the English average of £304,193. This affordability makes Sheffield appealing, particularly for first-time homebuyers and younger professionals looking to establish themselves in the housing market.
Renting is also substantially cheaper than in many other major cities. Average rents in the city were £693. Compared to London's extortionate rates of between £1500-£1600 per month (for just a flat), it's no wonder companies and employees are choosing Sheffield.
Housing is a key concern for many, and Sheffield's relative cheapness attracts young talent seeking affordable options while pursuing their career aspirations in the tech industry.
The lower cost of living in Sheffield extends beyond housing. Everyday expenses, such as groceries, transportation, and entertainment, are also comparatively affordable, ensuring that entrepreneurs can maintain a comfortable lifestyle while keeping their business expenses in check.
Transport links
Located in the heart of the UK, Sheffield businesses benefit from the city's prime position within the country's transportation network.
For road travel, Sheffield is served by the M1 to Leeds (about 1hr) and to Nottingham (about 1hr), with great connections to the M62 (Liverpool and Hull) and M18 (Doncaster). As well as two routes to Manchester; the A57 (Snake Pass) and A628 (Woodhead Pass) both taking 1hr 30min on average.
In addition to road networks, Sheffield boasts efficient and reliable public transport options. Supertram is the city's tram network. 4 routes serve areas within Sheffield and Rotherham, providing convenient and cost-effective commuting options for teams living locally.
Sheffield's train station connects the city to the UK's rail network. Regular trains run to major cities – there's a train to Manchester up to every 20 minutes, with an average journey time of 1 hour and 6 minutes.
Sheffield is near several airports, including Manchester Airport, for those needing to travel further afield. These airports connect Sheffield businesses to global markets. This accessibility to air travel enables tech start-ups to engage with international clients easily, explore new business opportunities, and tap into a broader customer base.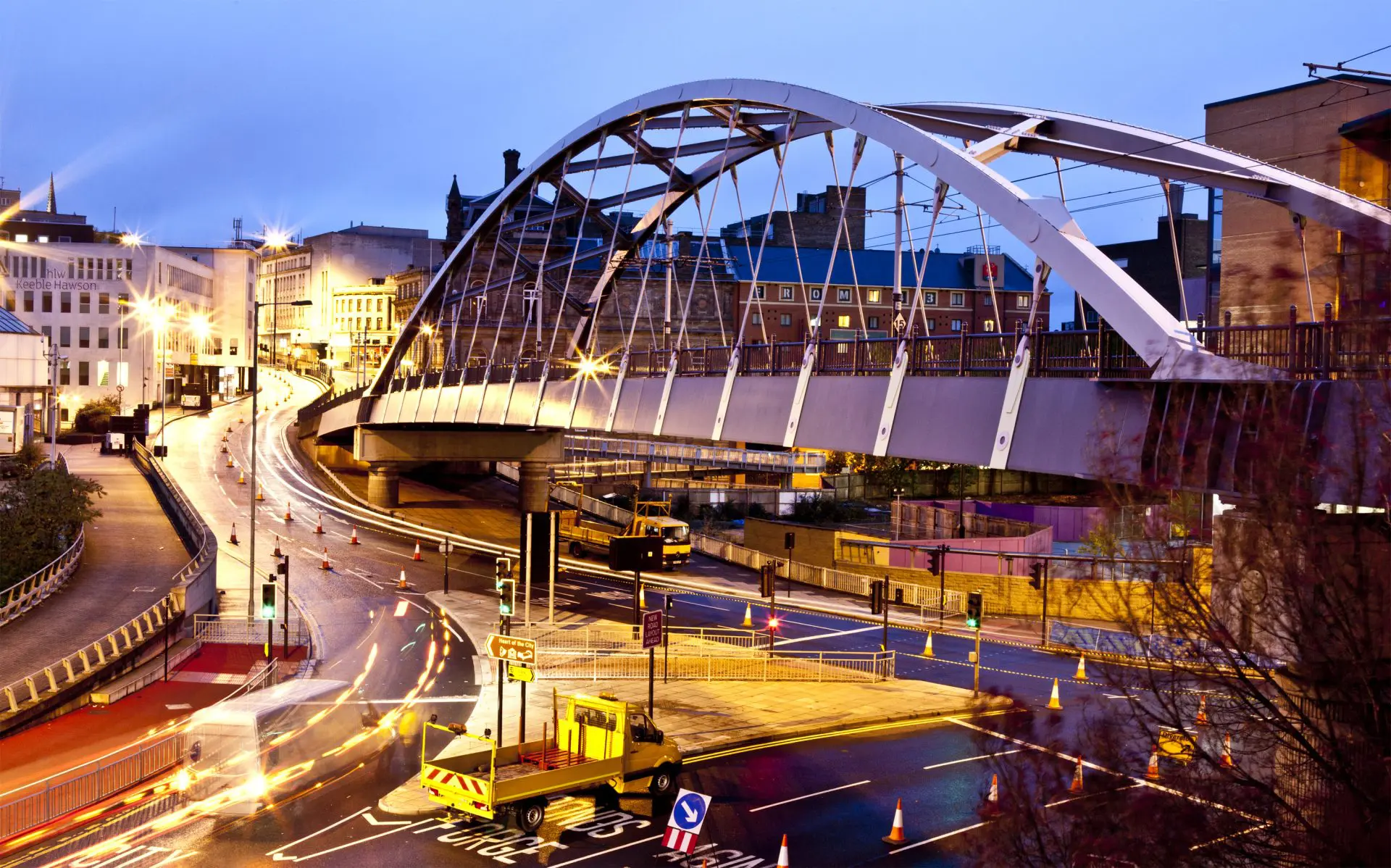 The University of Sheffield
The University of Sheffield is pivotal in making the city an attractive destination for tech start-ups. Renowned for its academic excellence and research prowess, the university serves as a catalyst for innovation, entrepreneurship, and industry collaboration.
As a leading research institution, the University of Sheffield attracts top-tier talent and conducts cutting-edge research in various disciplines, including technology, engineering, computer science, and business.
Tech start-ups can tap into the university's wealth of knowledge, resources, and facilities. These partnerships give them access to equipment they may not otherwise be able to afford. The university also runs events and workshops and advises entrepreneurs looking to kickstart their companies.
The University of Sheffield's strong focus on entrepreneurship is also reflected in its curriculum. The university offers entrepreneurship modules and workshops, equipping students with the skills and knowledge needed to navigate the startup landscape.
This emphasis on entrepreneurial education cultivates a culture of innovation and risk-taking among students, fostering a pool of well-prepared talent to drive tech start-ups forward.
Sheffield is also one of the best universities for producing valuable start-ups. The total IP of start-ups in the last five years produced by the university reached £64 million – only behind the University of Oxford (£213 million) and the Institute of Cancer Research (£208 million).
Business Support
Getting a business off the ground is difficult. Entrepreneurs need investment, a good team and a solid plan. That's before thinking about equipment and office space.
Start-ups in Sheffield can access the South Yorkshire Growth Hub to get the support they need. This Local Enterprise Partnership (LEP) is a collaboration between the private sector, local authorities and academic institutions responsible for the region's economic growth.
The LEP offers specific support for start-ups. These initiatives provide resources and guidance to navigate regulatory frameworks, give opportunities to access funding opportunities, and tap into local networks. The efforts of the LEP contribute to a business-friendly environment, empowering startups to thrive and flourish.
Start-ups usually don't need large offices, which is where Sheffield's thriving co-working spaces scene helps. There are plenty of options for small teams to rent a small office or several desks in the city, with several spaces catering specifically to tech companies.
These shared workspaces provide flexible and affordable options for start-ups, allowing them to operate in a dynamic environment alongside like-minded entrepreneurs and professionals.
Co-working spaces in Sheffield often go beyond providing a desk and internet connection; they foster community, collaboration, and networking opportunities through organised events, workshops, and networking sessions. Such spaces create an ecosystem where start-ups can connect with potential partners, investors, and mentors, fostering innovation and growth.
From mentorship and funding to regulatory assistance and networking opportunities, Sheffield's comprehensive business support ecosystem nurtures startups, accelerates their growth, and positions them for long-term success.
Contact the team today
Looking for more advice surrounding your IT and technology?
Fill in the form below and one of our experts will be in touch to help you with your enquiry.
Related insights
Browse more articles from our experts and discover how to make better use of IT in your business.