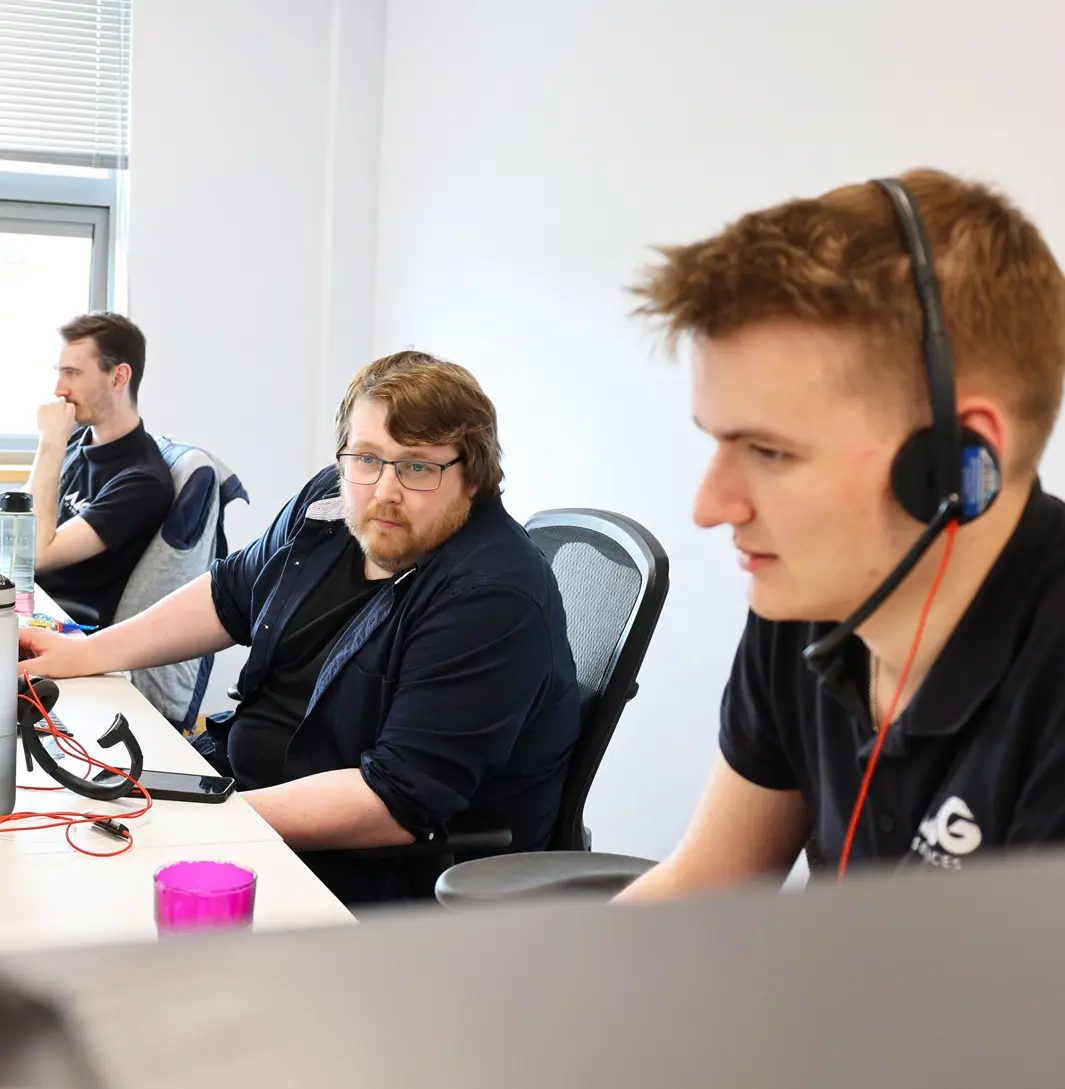 Need a More Flexible IT Solution?
Adaptability is key in modern business – and in-house IT teams can struggle to efficiently manage every system. This inflexibility leads to:
Declining trust from clients and team members.
Hours lost on troubleshooting IT problems.
Reduced profits due to downtime and data loss.
It's time to consider an IT Support model that adapts to your business needs.
Sign Up & Switch in 3 steps
Switching to AAG won't disrupt your work.
Our 'Sign Up & Switch' process frees you from IT frustration in 3 simple steps:
Contact us today
Identify your key priorities, so we can tailor a bespoke support package.
Discovery
An in-depth review of your IT infrastructure and the needs of your business. By understanding your processes and priorities, we'll create a plan that boosts efficiency.
Go live
Empower your team with fast, accurate IT Support.
Worry-Free Outsourced IT
Smooth Transition
The thought of changing providers is intimidating. Our strategy ensures minimal disruption, so you can focus on serving your customers.
Robust Security 
Cyber security is our priority. We bolster your defences with rigorous security reviews, planning and policy implementation.
24/7 Support
Outsourcing your IT gives you a partner dedicated to your success. Our 24/7 help desk ensures you have the support you need, when you need it.
Enrich Your Business with Adaptive IT Support
We understand the struggle of internal IT teams trying to manage systems while your business grows. With over 100 years combined IT experience, our team is ready to give you the support you need to succeed.
See how our Outsourced IT Support has reshaped businesses across the UK:
AAG has been our trusted IT Service provider for many years. They are very prompt, consistent and reliable and I would highly recommend their service.
Hayley Koseoglu
Business Improvement Consultant
I would definitely recommend AAG to our clients and we do on a regular basis, we would not use a company that we are not willing to sell to our end users. ACS would not be where we are today without the help and support of AAG.
ACS Business Supplies
AAG is a very professional organisation and the team are always prepared to invest time to better understand our needs and concerns. We would happily recommend AAG as a true IT partner.
AEON Financial Services
They are honest, approachable and they have a personality, which is why we would have no doubt in recommending AAG to anyone who is considering using their services.
Crystal Clean Services
Diverse Industry Support
From manufacturing firms to start-ups, our bespoke Outsourced IT Support packages enhance productivity while mitigating risks and interruptions.
Scalable IT Solutions
Stuck with limited IT Support? Switching might seem overwhelming, but not upgrading could be far costlier – like your team becoming overwhelmed by glitches and downtime, or your growth plans being hampered by inadequate IT support.
Break free from stagnation and scale smoothly with AAG's bespoke services.
Contact Us Today: Let's discuss your needs in detail.
Tailored Solutions: We develop a bespoke strategy based on a comprehensive analysis of your operations and objectives.
Go Live: Activate future-oriented, hassle-free Outsourced IT Support.
You'll see the difference.
Imagine your IT team free to focus on adding value to your business, with the day-to-day management of your system handled by AAG. Your concerns about regulations and cyber security fade as your digital infrastructure is compliant and protected against the latest threats.
We'll even sit in on board meetings as your CIO – that's how much of a partner we are.
Your business deserves IT that works.