A Leading IT Service Provider
We offer expert IT support services for organisations of all sizes, working with you and your team to ensure that everything is running smoothly and securely. Our managed service model works so you can focus on what matters most: growing your company.
We provide support packages tailored to your needs, with flexibility and expertise at the heart of our service. And it doesn't end there – we provide remote monitoring with proactive maintenance to optimise performance. In the case of a disaster (or even just a minor inconvenience), you have the peace of mind that we'll be there to help.
24/7 unlimited support
When your staff use your business's technology, they expect it to be reliable and easy to use. Our service desk is always available to provide remote support for any issues.
We understand that uptime is critical for the success of your business, so we carry out all maintenance and system updates outside of regular business hours.
From patch management to server maintenance, AAG ensures your organisation always has the IT support it needs.
Pay-as-You-Go IT Support
There are two distinct ways to use this service:
For businesses that are hesitant to sign an IT support contract because of commitment or cost, a PAYG IT Support solution can be ideal.
For organisations that require ad-hoc holiday/sickness cover, the pay-as-you-go model can be a great way to find support for their in-house team through busy periods
We achieve significant results by working closely with our clients using our Proven Partnership Process - the methodology which underpins our managed IT support service.
Proven Partnership Process
Our Proven Partnership Process is based on our aim to take our client's IT from functional to transformational. We work so your technology can become a primary driver of innovation, efficiency and agility.
As your IT support provider, we make sure we get to know and understand your business objectives and aspirations. We utilise our experience in everything from hardware to cloud solutions, continuously evaluating and evolving a technical strategy that's explicitly aligned to your core business.
We serve the whole UK
AAG started life in Chesterfield back in 2009. Since then we have grown to support clients all over the UK, with offices in London, Manchester and Sheffield. We monitor systems proactively and offer round-the-clock remote support. We can quickly dispatch our engineers to your site if you need on-site assistance.
We become your partners
Through our Proven Partnership Process, we become your technology partner, and ensure your business' tools and tech drive the business forward.
We are experienced
We have been offering managed services for over a decade. During this time, we have developed an experienced team of consultants.
We are professional
You can rely on us to provide proactive support to maintain the uptime of your business.
We are focused on your success
You can trust us to provide professional support – we care about your business growing and thriving.
We are secure
Security is our first concern in everything that we do. From the humble data centre to the cloud, ensuring data protection has never been more critical.
We are proactive
Innovations like remote working, a greater need to protect end-users personal information, and an increased need for staff training mean the technology landscape is changing.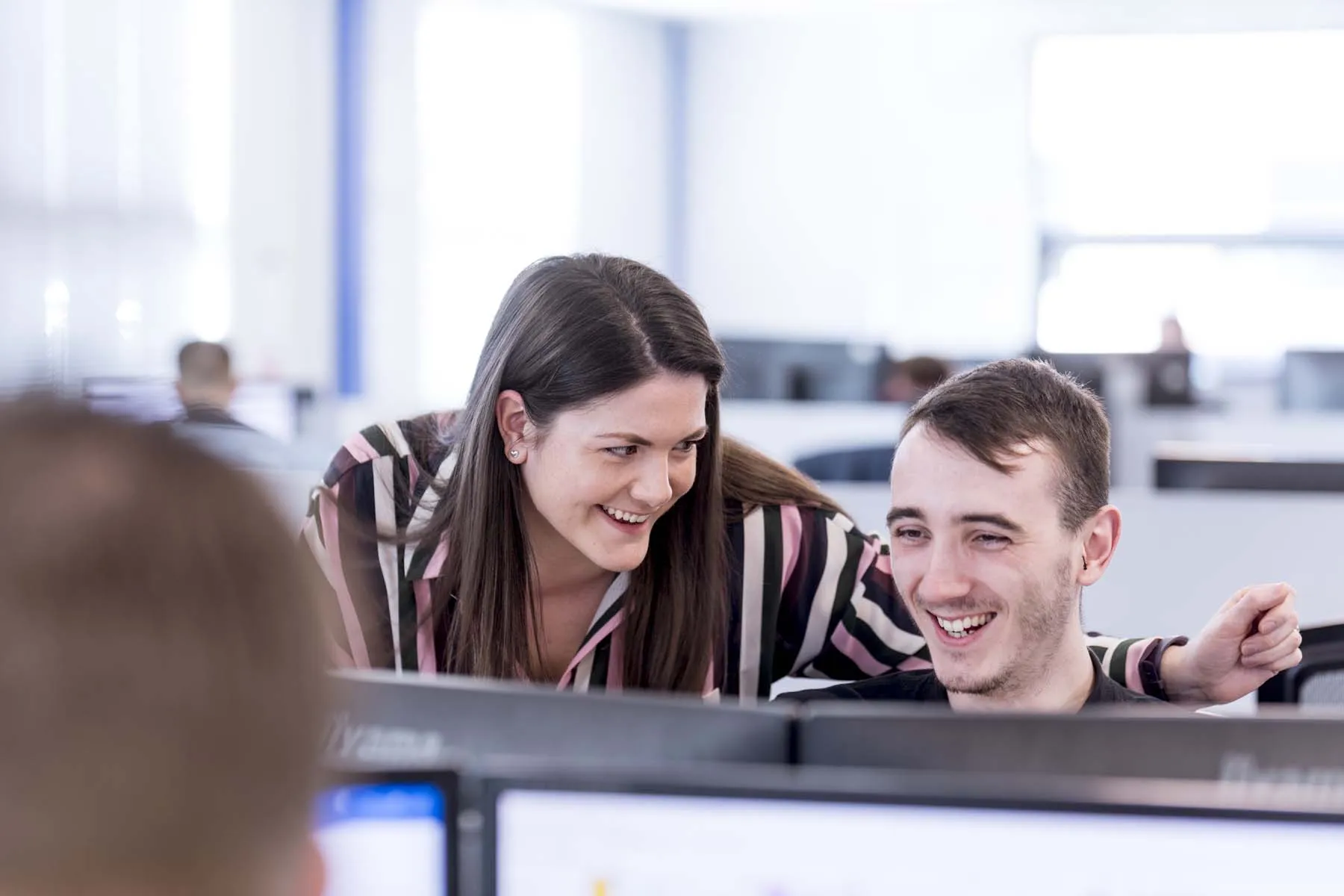 AAG's Approach to IT Support
We're a highly trained team of experts with the skills and qualifications to help you with all aspects of IT support for SMEs.
Think of us as your IT team, IT service desk, and infrastructure management all rolled into one.
We understand that time is money. Our flexible approach means we can quickly resolve IT issues with minimum fuss, saving you time and money in the long run.
Our team of highly skilled engineers and technical specialists monitor and support your infrastructure to take care of your day to day needs and ensure your systems reach their optimum potential.
Testimonials
We help our clients unlock the power of technology and have experience managing the IT services of businesses across the UK.
AAG continue to provide us with dependable, innovative IT support and as a business, they share many of our values. They keep things running smoothly in the background, when we don't want to think about IT, and when we do they offer advice on how we can adopt certain technology to meet our unique needs. I have never doubted that AAG could support our growth and I would recommend them to any business.
WB Power Services
They are honest, approachable and they have a personality, which is why we would have no doubt in recommending AAG to anyone who is considering using their services.
Crystal Clean Services
I'd recommend AAG to anyone looking for solid IT consultancy and support, especially if you are just starting a new business venture. We've found a true technology partner in AAG.
Haus Homes
We would recommend AAG as they make us feel like a valued client and they are friendly, approachable and efficient.
Pharmacist Support
I would recommend AAG as we have had experiences with other IT service providers in the past and all of the other suppliers have let us down significantly. If I could describe AAG in one word it would be 'reliable'.
Weightron Bilanciai
I would definitely recommend AAG to our clients and we do on a regular basis, we would not use a company that we are not willing to sell to our end users. ACS would not be where we are today without the help and support of AAG.
ACS Business Supplies
AAG have a deep understanding of our firm and took the time to really get to know our people and how they engage with technology. By getting to know our business from both a technology and people perspective, they have been able to make impactful recommendations that have allowed us to take on additional clients.
Dawson Radford Solicitors